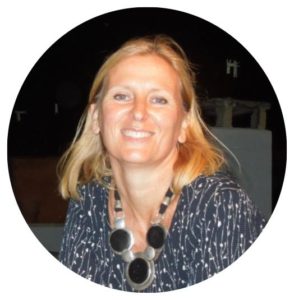 I've been a licensed, local, English-speaking tour guide in Rome since 1998 and provide private and small group tours to meet everybody's wishes and interests. If you've landed here, it's probably because you're not interested in your typical packaged, inflexible, boring and monotonous tour (that makes two of us) but because you are looking for something a little more personalised and flexible. So feel free to have a look around my website and let us see if we can't find the perfect tour for you and your family!
Here are some of the tours I'm currently offering. If you're looking for something which isn't on this list or have any special requests, feel free to contact me
 and we'll work out a suitable itinerary for your next trip to Rome.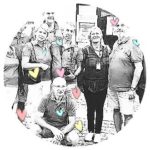 Peg Saenger
Jenuary, 9, 2019 Luisa definitely knows wine. She was very friendly and knows the history of the vineyard well, over all in the Castelli Romani area. We visited cellars, ancient caves, vineyards and Castel Gandolfo, where there is the summer Residence of the Pope. Luisa guided us inside the private papal apartment so we had the opportunity to see where Popes, like J.Paul II, staied in vacation. So it was a mix of history, food, wine and art! Peg Saenger, California

Elisa Holland
October, 2018 This was the best part of our family vacation to Italy. In the morning we visited the Vatican Museums, The Sistine Chapel and the Studio of Mosaics where the artists were working making mosaics. With Luisa we had the opportunity to visit the Vatican in a place usually closed to the public, it was exciting! After lunch,(a very good and light pizza in a place where Luisa often eat after the Vatican tour), we went to visit a winery in the Roman countryside . We had a rainy day, so the Luisa had placed us next to the fireplace to we could be warm. We enjoyed all the wines and delicious food that they offered and we felt like at home! Elisa Holland, Buffalo, NY USA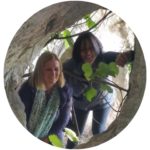 Karen Brown
Vatican tour, May, 2018 Luisa is so amazing. I don't know how anyone retains the amount of knowledge she has about the vatican. We enjoyed our tour immensely. Karen Brown, Orange Beach, AL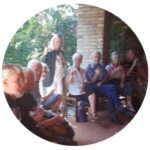 Mike Weinhart
October 2016 Luisa was nice and well informed in different fields! She taught me about the stories connected with the Castelli Romani wine I did not know and showed us around the beautiful vineyards.The wine tasting was a terrific experience,we tasted 4 kinds of organic wine accompanied by cuts and cheese. She always had a smile on her face and was always willing to answer questions!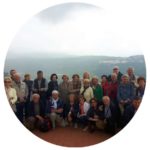 Paul Simonetti group tour
April,1st 2018 Awesome tour guide! Kept us entertained the whole time. Our tour day had very bad weather but Luisa kept up her spirits and did a great job keeping up ours!We admired the amazing view of the volcanic lakes and Rome countryside. She is incredibly knowledgeable and she really made our day in Rome fun and something we will remember for a long time. Paul Simonetti, N.Y.