Rome has two public airports – Fiumicino (Leonardo da Vinci) and Ciampino.
…Fiumicino Airport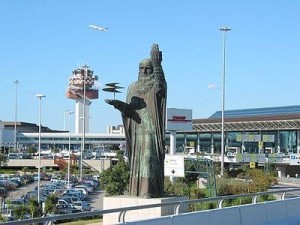 This is Rome's main airport and is is well-connected with the center during the day by train, bus or taxi.
…Train Transfers from Fiumicino Airport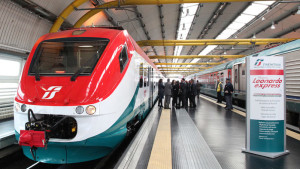 You can find standard Regional Trains (FLI) departing every 15 minutes from Monday to Friday and every 30 minutes from Saturday to Sunday. They stop at Rome Tiburtina, Rome Ostiense, Rome Trastevere and reach Rome Termini (central train station) in 55 minutes.
These trains take a little longer to reach Termini station but come at a convenient price of 8 Euros or 65 Euros for a package of 10 tickets (great for big groups!).
…
The Leonardo Express provides a direct connection from Fiumicino airport to Rome Termini Station and at only 32 minutes offers the shortest travel time of all (it's also faster than bus or taxi). It goes every 30 minutes from 6:23 AM to 11:23 PM daily.
For those of you in a hurry to get to Rome a one-way ticket will set you back 14 Euros or 115 Euros at a bulk discount for a package of 10 tickets (25 Euros Cheaper). Not the cheapest option but definitely worth considering if you're only planning a short trip to Rome and want to make the most of your time.
…
You'll also be glad to know that all children under 4 years of age travel free of charge on both regional trains and the Leonardo Express and of course both options are equipped with dedicated spaces for travelers with reduced mobility
…Rome Airport Shuttles (private companies)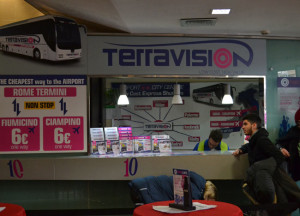 There are several private bus shuttle services you can take to reach the city of Rome which depart from just outside the terminal 3 Exit at the airport. They all offer daily connections (Sundays included) and are definitely a cheaper option. They take about 50 minutes to Termini station which of course is subject to the traffic situation. You'll find them by following the blue and white BUS STATION signs at the airport and they'll take you to:
Termini Station and the Vatican area, Via Crescenzio . SIT shuttle, parking space 1.
Termini Station and Ostiense station. T.A.M. shuttle, parking space 2.
Termini Station. Either Atral or TERRAVISION shuttles, parking spaces 3 and 4.
These buses are a convenient option and cost around 5-6 Euros per person for a one-way ticket depending on the company.
…Rome Airport Taxis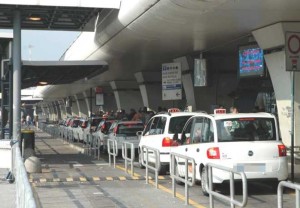 A rather costly option but still convenient if you are several people or have a specific destination in mind which isn't covered by trains or buses. However, make sure to catch the official, licensed taxis (white cars with a taxi number on the side) and that you are charged the fixed fares listed below.
From Fiumicino Airport to:
Any destination in Rome: 48 Euros
Tiburtina Station: 55 Euros
Ostiense Station: 45 Euros
…Ciampino Airport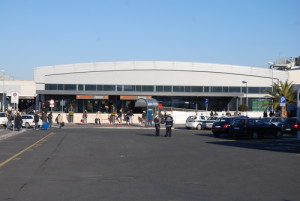 Ciampino is Rome's smaller airport and is mostly used by charter flights and budget airlines such as Ryanair.
Here you will find several private shuttles to Rome Termini that run approximately every 30 minutes, until 11pm at a price of around 5 Euros. The only way to get to Rome Termini after this time is to take taxi at a price of around 30 Euros.