… The Metro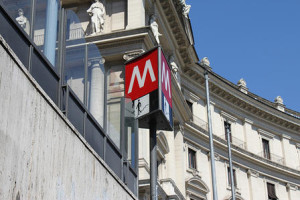 The Roman metro (called Metropolitana by residents) goes around rather than through the historical city. It has only two lines, Metro A (red) and Metro B (blue), which intersect at Termini Central Station. While the Metro C (yellow) is for the most part still under construction, some stations are already functional.
Trains run approximately every 4-10 minutes, from 5:30 am to 11.30 pm every day (until 0:30 am on Saturdays).
click here for a map of the metro lines or here for a complete list of metro, bus and tram ticket pricing
…Buses and Trams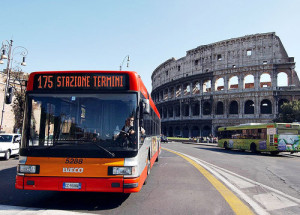 There are hundreds of bus lines, running from 5:30am till midnight. All buses and trams travel in both directions.

In an effort to minimize pollution in the small backstreets of the historic center, the city has established several electric bus lines to navigate alleyways barely wide enough for a Vespa.
After a late night out there are taxis as well as 20 night bus lines which run from 00:30 am to 5:30 am. The main terminal stations are Termini (Piazza dei Cinquecento) and Piazza Venezia. Buses leave from these two piazzas into all directions every 30 minutes. Night bus stops are marked with an owl and you can purchase tickets on board.
Click here for a complete list of metro, bus and tram ticket pricing